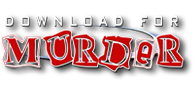 Website Terms of Use
Ordering from www.downloadformurder.com
1.1 You must be at least 18 years of age to place an order.
1.2 By paying via Paypal you are offering to buy the products at the stated price and agreeing to our terms and conditions.
1.3 You will only own the goods once we have received payment in full.
1.4 Prices are in pounds sterling and include UK VAT as appropriate. Overseas customers are responsible for any customs fees or import tax due.

Supply
2.1 Products and services are subject to availability. We reserve the right to refuse to supply any products ordered.
2.2 From time to time, access to the website may be disrupted, and may prevent you from downloading files. We will make our best endeavours to ensure service returns to normal with 72 hours but accept no liability for compensation or damages for interupted service.
3. Downloads
3.1 By purchasing a downloadable game from this website you agree that you will only use the downloaded game for personal use, on as many devices as you wish for personal use, and that you are granted a lifetime license to view and print the game for personal use, but may not duplicate, reproduce or in any way distribute the game or digital file, broadcast, sell or make available to others the game in any form. These restrictions include, but is not limited to, making the digital file available on peer-to-peer networks.

Refunds
4.1 If you are a consumer, you have the right to cancel the contract for the purchase of any part of the order within 7 working days and your payment will be returned. To cancel the contract, you must first inform us within 7 working days of the day you receive the goods from us. You can inform us by email (support@downloadformurder.com) or post at D'Avekki Studios Ltd, 3 Marwood Close, North Furzton, Milton Keynes, MK4 1LP.

Web Store Content
5.1 Great care has been taken in the creation of the content of this web site. However we disclaim all warranties, express or implied as to the accuracy of information contained herein.
5.2 Images displayed are not actual size.
5.3 The colour of images displayed can vary from the true colour.
5.4 Designs and colours can vary on some products due to the production processes.
5.5 All sizes, measurements and weights are approximate and included for guidance only.
5.6 All trademarks, copyrights, brands, logos and product images are the property of their respective owners and are hereby acknowledged.

Liability
6.1 We will not be liable for compensation or damages if we do not supply access to this website, the order or a part of the order.
6.2 You have the right to cancel the order if we are unable to deliver within 30 days. We will not be liable for any compensation or damages as a result of late or non-delivery.
6.3 We do not accept any responsibility for any web site not under our control which may be linked to this site.
6.4 In respect of compensation or damages we limit our liability to the total sale amount received for your order.

Customer Information
7.1 We may hold information about you on our databases for the purposes of running our business. This information will be used for administering your order and we may use the information to contact you from time to time if you have requested such information. You accept that we may send you information regarding your order and order status via email.
7.2 By placing your order you are agreeing to allow us to use your personal details for the purpose of supplying goods and services which may include passing details on to third parties eg suppliers, couriers and subcontractors.

General
8.1 www.downloadformurder.com is a trading name of D'Avekki Studios Limited(registered in the UK: company number 4989192).
8.2 These Terms and Conditions shall be governed by the laws of England, UK. Any dispute or controversy, not resolved in the normal way, shall be subject to the exclusive jurisdiction of the laws of England, UK.
8.3 Each Term and Condition set out in this document shall be construed separately and will remain in force even if for any reason one or other of the Terms or Conditions is held inapplicable or unenforceable.
8.4 Section headings have been included in these Terms and Conditions for convenience only and are not to be used in their interpretation.
8.5 These terms and conditions are subject to change at any time without prior notice to you.
8.6 Your statutory rights are not affected by these terms and conditions.