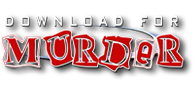 Dear Retailer,
New vendors of downloadable Murder Mystery games are appearing on a daily basis, and there's no way of easily finding out who's delivering the quality products that will keep your customers happy.
Furthermore, if you'd like to 'resell' any of their games, most of them ask you to send customers directly to them and they will pay you a small commission.
We know retail doesn't work like that.
That's why Download For Murder games are sold directly from your website with proper retail margins. You only pay for what you've sold, invoiced quarterly. Simple.
As for quality, our games are produced by D'Avekki Studios, creators of the original Multimedia Murder Mystery Party TM boxed games. Many of our downloads are the same games, improved and redesigned for download.
If you have your own website and would like to stock and sell our range of products please fill in the retailer application form below.
Questions? Email us or call us on 01945 232300